Admin





| | | |
| --- | --- | --- |
| This site was created as a gathering place for alumni of the graduating class of 1976. You can view current class member bios and pictures, learn about upcoming and past reunions and help locate other class members that we've lost touch with. There is also a special "In Memory" page to honor those who have passed away. Once you create an account you can then upload your own information and photos. (Due to privacy issues, an account is required to view most pages). We want this to be a place where old friends can get back in touch and new friends can be made. So please join the site by registering and lets get re-aquainted and strengthen friendships. | | |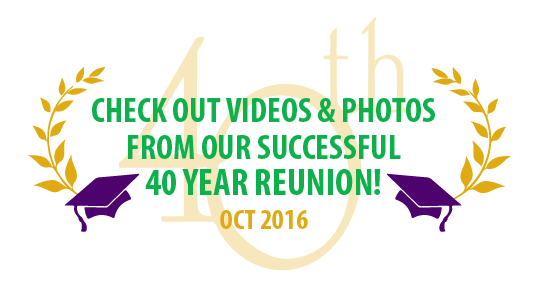 At the 40 Year Reunion, members of the Acapella Choir Led by Mr. Garrett singing "Carry On". If you see nothing else, see this.


If You're Not Getting Our MHS Newsletter Please Subscribe Below!
This is how we let you know about the reunions!



Reunion Photos!

Over 500 Photos from the 30 Year Reunion and the accompanying events are in the PHOTO GALLERY!



© 2006 Written and Performed by Roy Rivers (Nancy Millers Husband)
Click Button To Play

Lyrics Here Download Here





(Please read ALL the info reguarding it!)

CLICK HERE



NEWEST CLASSMATE!
This is the newest classmate to register on our site.
Click the image below to see details on their profile page!


Problems or Questions?
Email Web Master Nancy Miller/Rector using the site Contact Form Ü
ONLINE AVATAR MAKER:
Click Here
(This might be helpful for some in making their small photo for the chat box!)
LOOKING FOR PHOTOS
Of past reunions or from our High School year 1976. Please upload them on the Contact Page. We'll add them to the gallery! And PLEASE... Fill Out Your Bio! Ü
Disclaimer: Your information and email are kept private. We are not, however, responsible for others who log-on and misuse posted information.