MHS Class of 1976,

This coming May 23rd will mark 32 years since graduation day for our class. The things that have
happened in each of our lives during that time vary, but I think it is safe to say that we have all had our ups and downs. Hopefully for the majority it has been more ups than downs.
People have different experiences in life that help them relate, empathize, and bond with each other. Whether it be an illness, monetary success or struggles, family problems, etc. everything we experience connects us. And it can bring us together.
Age has a tendency to humble us. I think as we grow older and experience more, we realize how much it's not about "what we have" as it is "how we deal with what we are given". This makes us able to see people from a different perspective… for who they really are and who they are trying to become.
Being born and raised in Mesa and having spent 45 of the past 50 years here in the valley, has given me the opportunity to see quite a few of our classmates as time has gone by. Many continue to be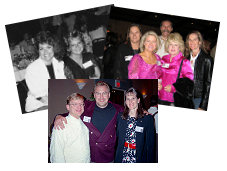 some of my closest friends. As I have run into class members over the years, knowing that we spent three years of high school together, always gives me an immediate sense of a special bond we have.
Past reunions and our website has given many of us opportunities to renew old friendships and form new ones because of that common bond that we all have…..Mesa High. High school, though only a short span in our lifetime, played a part in who we are today.
Thank you for your friendship over the years. May we continue to strengthen and form new ones in the years to come.
Darrel LeSueur
Sr. Class President
MHS 1976